What are dental implants?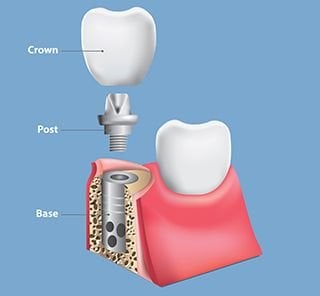 A dental implant is a small post that serves as a replacement for a tooth root. An abutment, also known as a connector, is built and placed on the top of the implant, connecting to the replacement tooth. The replacement tooth is a crown that is created to uniquely match your natural teeth.
Dental implants can be made from different materials, due to the advancement of technology and research. However, the most commonly used materials are titanium and zirconia. Titanium is able to create a permanent fixture with bone. It is one of the most sought after metals for dental implants because of its durability and long lasting replacement solution at a reasonable price. Zirconia, a type of ceramic, has emerged as an alternative to titanium. It might be the preferable material for those who have metal allergies.
Why do I need dental implants?
There are a variety of reasons why people might need dental implants. Gum disease, tooth decay, or physical trauma all have the potential to cause teeth to fall out. The only treatment options available to these patients used to be prosthetics like dentures and bridges. Today, dental implants have become a popular option for patients seeking to replace missing teeth. Dental implants replace the tooth root, creating a strong foundation for prosthetic teeth to be built upon.
What are the advantages of dental implants?
Dental implants are proven to be successful and able to last a lifetime. Advantages include improved oral health, comfort, appearance, speech, eating, and confidence. Dental implants also provide better durability and convenience. Unlike dentures where you have to remove them from time to time, dental implants eliminate this step altogether. Once they're in your mouth, they act as a natural part of your mouth.
How many dental implants can I have?
You can have a single implant or multiple, depending on how many teeth you're missing. You also don't need an implant for every tooth that you are missing. One implant can replace a single tooth or support a bridge, but you need at least four to replace a full row of teeth.
Is the procedure painful?
Typically, patients find dental implant surgery quite easy to go through. Any pain after surgery can be managed with over the counter anti-inflammatory medication or icing the area.
How do I take care of my dental implants?
Just like natural teeth, you need to maintain a good oral hygiene routine. Brushing and flossing at least twice a day every day, as well as seeing your dentist for regular checkups and cleanings, will keep you on the right track.
Is the procedure expensive?
Dental implants can cost a bit more than other tooth replacement options such as dentures, but they are proven to last a much longer time. They should never require replacement if you keep a good oral hygiene routine.
What if my body rejects my new dental implant?
It is very rare that your body will reject your new dental implant, since the implant has no living cells in it. Allergic reactions to the titanium in the implant are also very rare. However, an implant can fail to adapt to your jawbone, in which case an infection would develop. You can prevent this from happening by maintaining good oral hygiene, seeing your dentist regularly, and not using a strong biting force soon after surgery.
Are there certain requirements to get dental implants?
You will first need to meet with your dentist to complete a total examination on your mouth, including X-rays of your jaw. This will ensure that there are no underlying problems and that you are indeed a candidate for dental implants. If your dentist believes that you do not have enough bone density for a dental implant, you may be able to get a dental bone graft to prepare for dental implants. A dental bone graft adds volume and density to your jaw in areas where bone loss has occurred. It's important that you have enough bone density so that the foundation of your tooth is strong enough to withstand a dental implant.