Posts for: June, 2014
By North Park Family Dental
June 20, 2014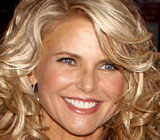 Model Christie Brinkley's smile has been a symbol of America's optimism since the seventies. Particularly well known for being the cover model for three consecutive Sports Illustrated Swimsuit editions, Brinkley still has a fresh-faced American girl-next-door beauty that starts with her cheerful smile, which transmits the message that all is well.
Brinkley's modeling career began when she was "discovered" in Paris in the seventies, at the age of 18. As she explained in an interview with Dear Doctor magazine, it was like a fairy tale. She had gone to study art in Paris, where a fashion designer spotted her walking down the street. "He told me later he immediately thought, 'That's the girl!'" she said.
Brinkley attributes her famous smile to a combination of good genetics (she inherited her mother's "beautiful straight teeth"), combined with the intelligence to practice good oral hygiene and have regular dental appointments. She never needed to have work done to prepare her for the modeling life; but as a teenager, she said, she wished she could wear braces because she thought the "coolest kids had them."
Although dental restorations were not needed to enhance her beautiful natural smile, she did have two dental implants after she fractured two rear molars in a bad helicopter crash while back-country skiing, and she says she is thankful for dental implant technology because it looks and feels so natural.
Brinkley said that her smile led directly to her assignment as spokesperson for a brand of oral rinse and mouthwash products. She is also concerned about the environment. Her company Christie, Inc. is designing environmentally friendly products.
Her advice to everyone is to smile more. "I think a smile makes EVERYONE beautiful! It's the greatest gift we give each other... It's an expression of friendship, love and peace!"
If you have questions about your smile, contact us today to schedule an appointment. Or you can learn more by reading the Dear Doctor magazine article "Christie Brinkley's Supermodel Smile."
By North Park Family Dental
June 05, 2014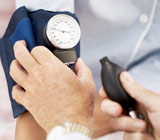 It's time for your semi-annual visit to our office. As we prepare for your examination and teeth cleaning, we may also take a moment to check your blood pressure.
No, you're not in the wrong office. The fact is, blood pressure screenings in dental offices are becoming more prevalent. The reason is twofold: as one of your healthcare providers, we may be able to identify a problem with your blood pressure that has previously gone unnoticed; and hypertension (chronic high blood pressure) and any drugs you may be taking for it can affect your dental health and how we provide treatment.
Hypertension, the medical term for high blood pressure, is usually regarded as any sustained pressure greater than 125/80 mm Hg (millimeters of mercury). It's been identified as a major cause of cardiovascular disease, a family of heart-related diseases that affect an astounding 80 million people in the United States. Chronic hypertension has gained a reputation as "the silent killer" — many people are unaware they have it and if left untreated can lead to more serious conditions such as stroke or heart attack. It's also a symptom of diabetes, even in the absence of other symptoms.
As part of your healthcare team, we're in a good position to screen for hypertension and other general health problems. At the same time, hypertension is an important factor in dental care, especially if you are on regulating medication. Many anti-hypertensive drugs have side effects, such as dry mouth, that can affect your oral health. Your pressure status and medications may also affect the types and dosages of local anesthetics we would use during procedures; many of these constrict blood vessels (known as vasoconstrictors), which can elevate blood pressure.
A simple blood pressure check could reveal a health problem you didn't even know about. It also helps us provide you with better and safer dental care.
If you would like more information on the effects of high blood pressure on your dental health, please contact us or schedule an appointment for a consultation. You can also learn more about this topic by reading the Dear Doctor magazine article "Monitoring Blood Pressure."